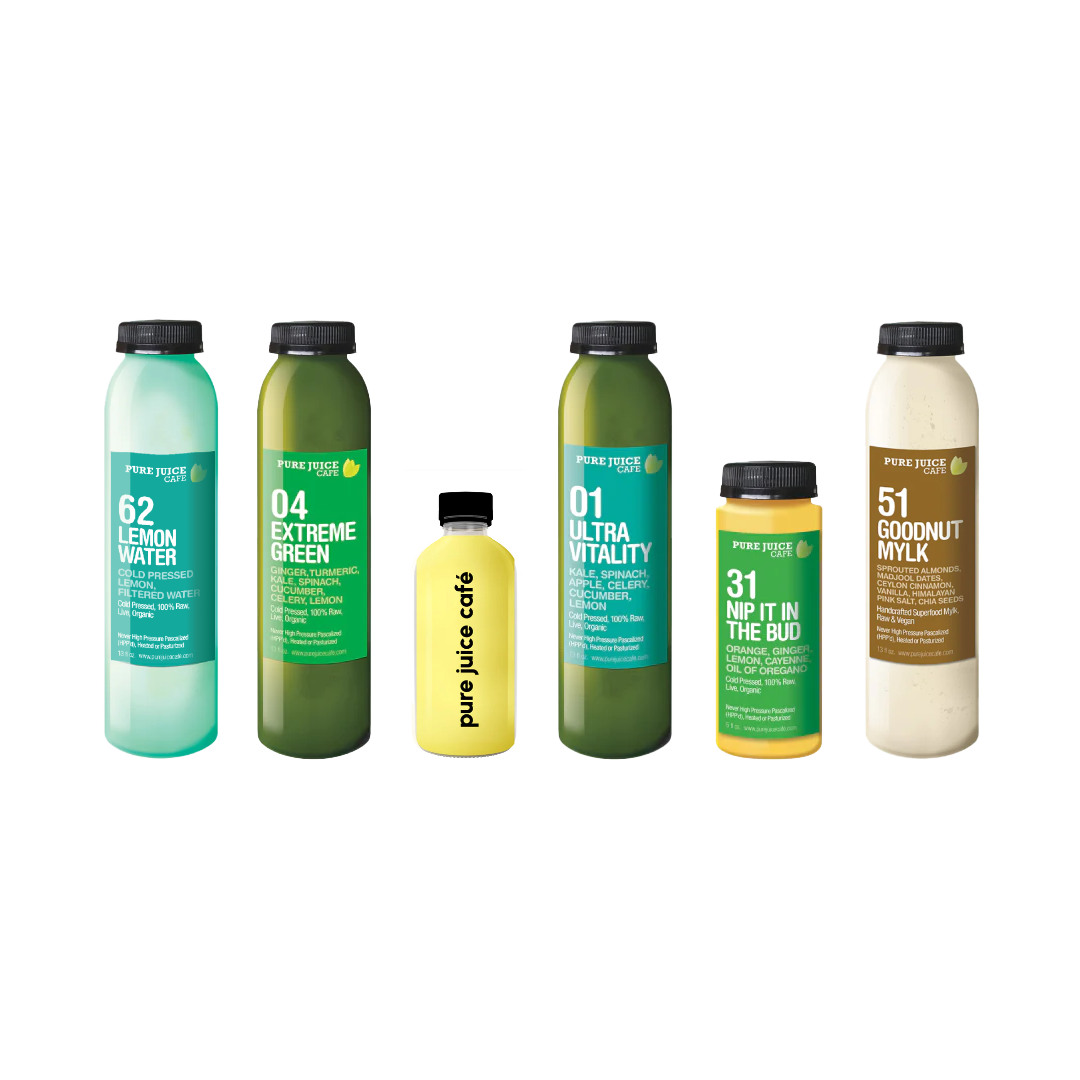 Drink the juices and shots throughout the morning an early afternoon.  Our half-day fast should be completed before the end of the day and should be broken with a light, plant-based dinner. We recommend half-day fasts to anyone who wants to experience some of the benefits of cleansing, but less of the commitment. When breaking your fast, opt out for plant-based foods heavy on greens, and remember to include healthy fats and protein. We offer variety of Salads and entrees to go well with this option.
Lemon Water, Extreme Greens, Ginger Shot, Ultra Vitality, Nip It In The Butt, Goodnut Mylk

See below for more details
CLEANSE SCHEDULE
Each day, begin your juice cleanse with a glass ofwarm water with lemon juice and cayenne pepper. This increases the rate of detoxification by opening the circulatory system and alkalizing bodily fluids. Drinking water helps set the stage for a smoother cleanse because it allows your cells to eliminate toxins more easily, increases energy, and reduces food cravings. One hour later, you are ready for your first juice. Following the number on the bottle cap, drink each juice in two hour intervals. When you follow the schedule, you will drink your last juice two hours before going to bed.
PRE TREATMENT
Avoid these as much as possible:
Wheat, Breads & Grains Containing Gluten
Dairy & Egg Products
Meats & Seafood
Sugars, Artificial or Processed Foods
Alcohol, Nicotine & Caffeine (Green Tea is good, however)

Incorporate these three days before the cleanse:
Raw Juices
Green Vegan Smoothies
Salads & Vegan Soups
Fruits & Vegetables
Steamed Vegetables
*Try to wean yourself off coffee, sugar, alcohol, and any other addictive foods that might cause withdrawal symptoms when you start your cleanse.

*Make an extra effort to hydrate throughout your day with water, at least two liters per day.

POST TREATMENT

You've hit the reset button and detoxified your system. Now, we want to make sure you're prepared to maintain and maximize the effects of your cleanse. You are still in detox mode when you exit this cleanse, so try to be mindful of what you put into your system. As you come out of this cleanse, make sure to drink plenty of water and pace yourself as you slowly reintroduce simple, whole foods.

WHEN TO CLEANSE AGAIN

A general maintenance diet should include at least 4 detox programs a year, ideally during the change of seasons. When you greet each new season with a revitalized body and a positive attitude, you're less likely to feel the effects of season change on your immune system. You can do more, but it really depends on your lifestyle and how cleansing makes you feel. You know your body the best.
We offer 1 day local shipping within Illinois for a $29 flat rate. Our shipping radius covers most of the state.

We offer $10 local delivery within an 8 mile radius of our shop (minimum order of $50.)

We offer free pickup at our shop located at 24 S. Evergreen Ave. Pop in and say hello!
Lemon Water
Hydrating, Digestive Aid, Antibacterial & Antiviral
---
Juice 1: 8:30 am
Start the day with a perfect balance of greens and apples. Kale gives it quite the nutritional punch with vitamins A, K and C. It's also a complete source of calcium. Spinach keeps the digestive tract moving smoothly and evenly. Lemon not only enhances flavor, but also adds more vitamin C, which supports a healthy immune system and fights free radicals – the perfect way to start the morning.
---
---
Extreme Green
---
Juice 2: 9:30 am
Now it's time to get your body working and boost your metabolism with this energizing spicy lemonade elixir. Pineapples work great as a digestive aid due to their bromelain content, which helps break down protein. It's also a great source of manganese, thiamine and vitamin C for its anti-inflammatory properties. Cayenne combined with ginger and vitamin C makes it truly a healing elixir. Maple syrup is a good source of zinc which along with magnesium, helps bolster your immune system.
---
Kale, Spinach, Ginger, Turmeric, Cucumber, Celery, Lemon
---
Ginger Shot
Digestive Aid • Nausea Relief • Headache Relief • Joint Pain Relief
---
Juice 3: 11:30 am
Our red juice helps with your afternoon sugar cravings. Refreshing, super-root, ginger has many anti-inflammatory properties. It also helps with circulation and aids in digestion. Beets and celery are great cell-builders and replenish your body with many key minerals. Finally, lemons are packed with vitamin C, and help prevent constipation, high blood pressure, fever and indigestion. They also improve your skin, hair, and teeth, keeping you beautiful.
---
---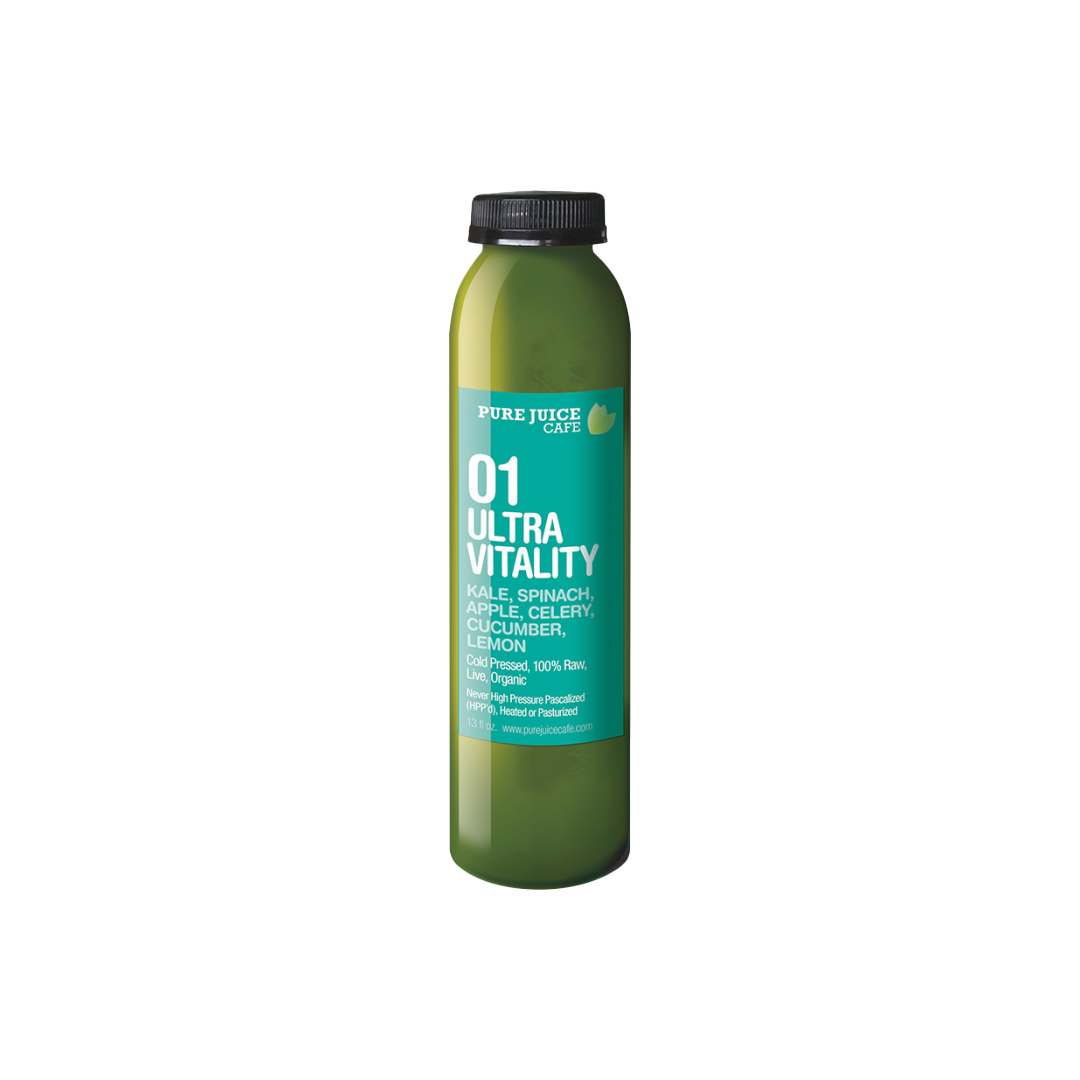 Ultra Vitality
---
Juice 4: 1:30 pm
Our revitalizing green juice has an exhilarating combination of greens. Swiss chard has vitamins A, C, E, B6, iron, manganese, calcium, and potassium—a perfect decongestant. Swiss chard is also a rich source of vitamin K, vital for maintaining bone density. Cilantro is highly detoxifying and has phytochemicals that assist in the prevention of cancer and other chronic diseases. Parsley is packed with antioxidants that destroy free radicals and improve your metabolism. Apples offer antioxidants, vitamin C and soluble fiber to help lower cholesterol and aid digestion. Celery, the best source of natural sodium, has alkalizing properties, helps in uric acid elimination and acts as a natural diuretic.
---
Kale, Spinach, Cucumber, Celery, Green Apple, Lemon
---
Nip it in the Bud
---
Juice 5: 2:30 pm
Late afternoon refresher with a little zing! We decided to add some spice to your juice-cleansing experience with jalapeños! Yes, jalapeños! In addition to vitamins A and C, jalapeños contain phenols, flavonoids and capsaicin. Capsaicin is a component in jalapeños that decreases inflammation and promotes weight loss. Pineapple aids in digestion due to its high bromelain content. We added cucumber to hydrate you inside and out. Cucumbers are a source of silica which is a necessity in collagen formation. Collagen is a fibrous protein that is responsible for keeping our skin firm and tight.
---
Ginger, Orange, Oil of Oregano, Cayenne Pepper, Lemon
---
Goodnut Mylk
---
Juice 6: 4:30 pm
Two hours before bed, it's time for rich and alkalizing nut milk that replenishes your minerals. It is full of antioxidants and folic acid. Also, its phosphorus content helps develop brain and muscle tissue as well as improve memory. Himalayan salt is unprocessed and free of toxins and pollutants. Known in the Himalayas as "white gold", it contains the same 84 natural minerals and elements found in the human body.
---
Protein Rich, Alkalizing, Mood Enhancer
---
Save 10% when you sign up for a subscription.
By subscribing, you can enjoy your Pure Juice favorites at a discount, hand-delivered to your door.
Learn More