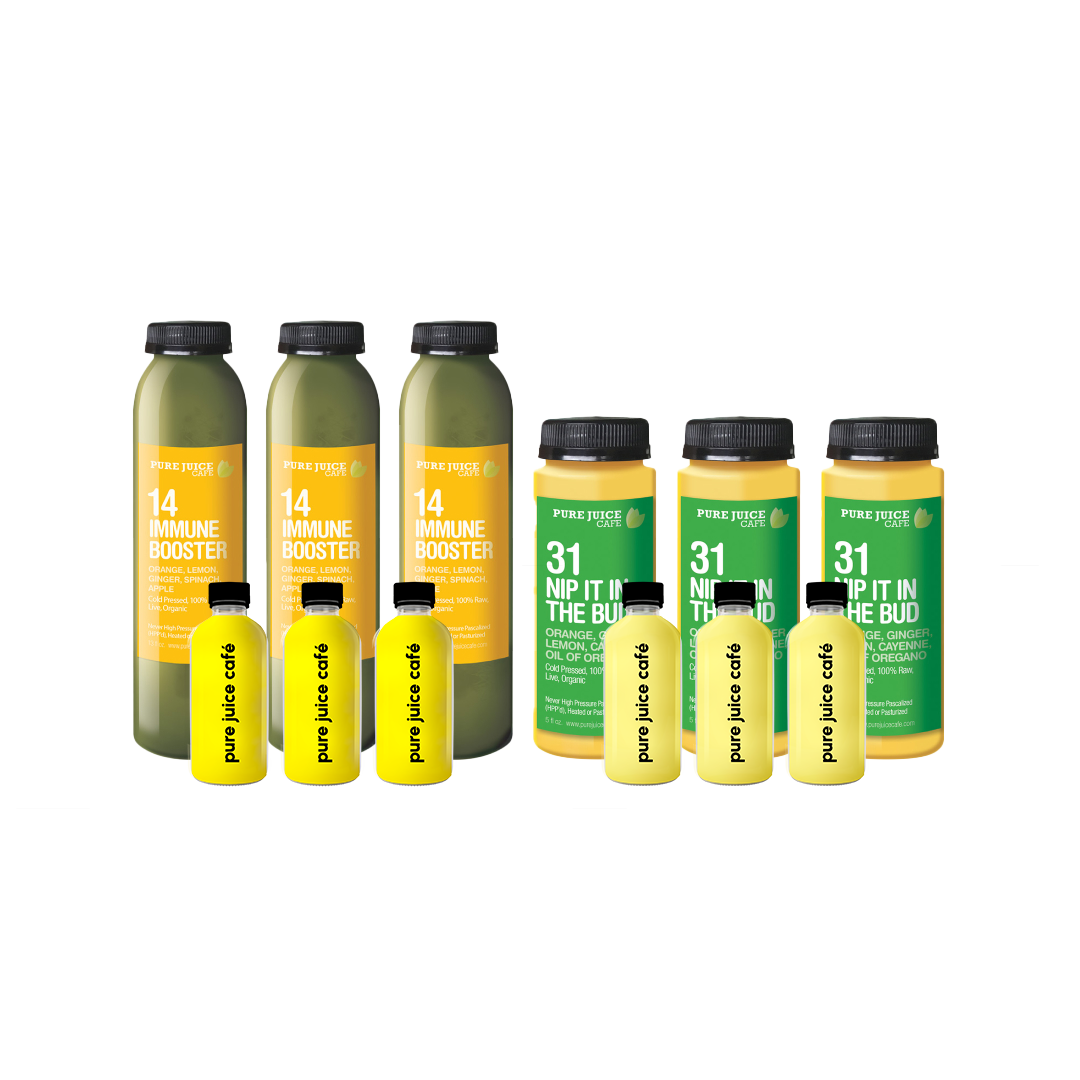 3 x Immune Booster Juices
Anti-inflammatory • Immune Strengthening • Vitamin C Boosting
Immune Booster juice will invigorate you, packing a serious healing punch of ginger and spinach that will target a cold as it comes on. Get a bright burst of energy from the orange, a refreshing burst of vitamin C from lemons, and clear congestion with ginger.

3 x Nip it in the Bud Juices
Antibacterial • Immune Strengthening • Infection Fighting
The perfect immune booster blend. Ginger is highly anti-inflammatory because it breaks up intercellular gas pressure in the digestive system. Oil of oregano is a powerful anti-pathogen, with anti-fungal and anti-viral properties. Orange is loaded with vitamin C and antioxidants; which combined with ginger, reduces inflammation. For an extra boost, we added cayenne pepper to stimulate your circulatory system,  increase body temperature and further enhance your metabolism.

3 x Flu Wellness Shots
Invigorate the body and clear congestion with the healing punch of turmeric, garlic and ginger. Our original wellness flu shot is anti-inflammatory, anti-viral, anti-bacterial, and anti-fungal. Ginger settles the stomach and clears the head, while pineapple soothes your throat. Refresh and heal with our go-to remedy!

3 x Ginger Shots
Warm up the body with the fiery immune-boosting power of ginger! Long used for its medicinal properties, ginger relieves digestive problems, nausea, inflammation, sinus pressure, and joint pain. Shoot it straight or add some to hot tea for immediate and powerful relief.
Immune Booster: Spinach, Ginger, Orange, Green Apple, Lemon

Nip it in the Bud: Ginger, Orange, Oil of Oregano, Cayenne Pepper, Lemon

Flu Wellness Shot: Garlic, Turmeric, Ginger, Pineapple, Lemon

Ginger Shot: Ginger
We offer 1 day local shipping within Illinois for a $29 flat rate. Our shipping radius covers most of the state.

We offer $10 local delivery within an 8 mile radius of our shop (minimum order of $50.)

We offer free pickup at our shop located at 24 S. Evergreen Ave. Pop in and say hello!
Save 10% when you sign up for a subscription.
By subscribing, you can enjoy your Pure Juice favorites at a discount, hand-delivered to your door.
Learn More